India needs 70 lakh new project managers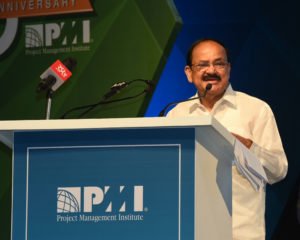 The Vice President, M. Venkaiah Naidu has called upon the private sector to play a bigger role in nation-building activities such as infrastructure development and improving health and education sectors.
India will also need 70 lakh new project managers by 2027 to manage the development programme, Naidu said at the inauguration of 11th Project Management National Conference in Hyderabad on 21 Sept 2019.
He stressed that public-private partnerships would be the order of the day for big projects like SMART Cities.
Observing that Project Managers were extremely important for a nation's progress, Naidu said these were times for immense changes and the knowledge and skills of project managers would have a positive impact on the industry and the country's economy.
"The big project management challenge is to change people's perceptions and win their support for lasting impact," he added.
Stressing that all programmes must aim at achieving inclusive growth, Naidu said that institutionalization of project management was one of the important lessons that government agencies must learn from the private sector.
Expressing his concern over delays in execution of projects on time, the Vice President said that this trend needed to change and called upon Project Managers to act as change agents to improve the execution of projects and programmes.
He referred to the recommendation of Task Force on Project and Programme Management which called for prescription of global standards and certifications for project professionals in public projects.
Naidu pointed out "We need to improve the way we plan projects, manage stakeholders, monitor progress, take corrective action swiftly and decisively and develop future-ready talent with a high technology quotient."
Tasking Project Manages to acquire the right skills and keep constantly attuned to the demands of the future, Naidu said that it was their opportunity to contribute to the industry and the country as the successful implementation of each project within time and budget, benefits hundreds, thousands and sometimes millions of people.
Referring to the policy framework initiated by the Quality Council of India, Naidu said that it would pave way for a formal approach to project and programme management once it receives a go-ahead from the government.
The Vice President also stressed the need for the conservation of water and ending single-use plastic.
But he acknowledged that the country does not have a good track record of executing projects on time.
"This needs to change. Although transformation must be seen at all levels, the project managers play a key role and must act as change agents," he emphasized.
The flash report that the Ministry of Statistics and Programme Implementation published in April this year says that more than 25% of large central sector projects, that cost Rs.150 crore or more, are delayed beyond their scheduled date of completion.
"We need to improve the execution of our projects and programs. For that, we need to improve the way we plan projects, manage stakeholders, monitor progress, take corrective action swiftly and decisively, and develop future-ready talent with a high technology quotient," Naidu underlined. fiinews.com