Goyal wants to tackle trade deficit with China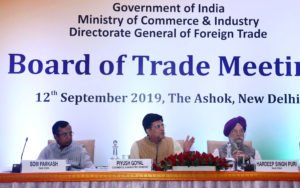 India needs to work on its strengths by exploring market access for agriculture and pharma products in different regions to balance its trade surplus with US and deficit with China, Commerce and Industry Minister Piyush Goyal has said.
"We have a trade surplus of US$17 billion with USA while we have a trade deficit of US$53 billion with China," Goyal pointed out at the Board of Trade Meeting on 12 Sept 2019 in New Delhi.
He called on stakeholders to help in identifying undesirable imports and help in the formulation of guidelines for the foreign trade policy which is being formulated to make it more robust.
Goyal along with Ministers of State of Commerce and Industry, Hardeep Singh Puri and Som Parkash addressed the 2nd meeting of the merged Board of Trade Board.
Goyal noted that each district of India has the potential equal to that of a country with its own distinct handicraft and unique specialties like saris, perfumes, sweets and utensils which has the potential for exports.
"There is a need for transforming each district of India into an export hub," said the Minister, urging his colleagues from States to identify and take measures to realize this by incorporating it into its export strategy.
Goyal also listed out the many initiatives that have been taken to digitize the interaction with exporters like e-issue of importer-exporter's code, paperless MEIS, paperless Advance and EPCG Authorizations and online RCMC for exporters.
Although Indian exports have crossed half trillion-dollar mark, India will have to achieve US$1 trillion of exports in the next five years.
In 2018-19, the exports totaled US$537 billion — goods exports at an all-time high of US$331 billion and services exports was US$205 billion.
"(But) we need to increase domestic production and improve our competitiveness," he stressed.
He announced that the Ministry will soon be coming out with a credit scheme for exporters with enhanced insurance cover up to 90% instead of the present 60%.
Nevertheless, Goyal conceded that there has not been much growth in exports this year and it is not satisfactory as India has a huge potential for exports due to the trade dispute between US and China which has provided a window of opportunity to Indian manufacturers for taking up exports of products to US or China where the higher tariffs have been imposed on imports from the other country.
During the session the LEADS Index – 2019 was released.
The LEADS Index is an effort by the Commerce and Industry Ministry to establish the base line of performance in the logistics sector based on the perception of users and stakeholders at the State level.
It provides the basis for stakeholder engagement, discussions and evolving action plan by various agencies. It is not an index of the performance of the State Government but may be used to assess the status of logistics efficiency in each State. fiinews.com