Wake up to climate emergency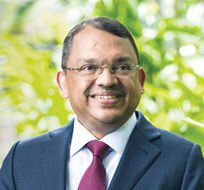 The science that underlines the need for action towards a sustainable and inclusive future has never been strong, said Sunny Verghese, the re-elected chair of World Business Council for Sustainable Development (WBCSD) for another two-year.
"People are also waking up to the climate emergency. Business needs to take the lead to deliver solutions to help the low-carbon transition and move past commitments to actions and clear targets," said Verghese, also Co-Founder and Group CEO of Singapore headquartered Olam International Ltd.
"The Sustainable Development Goals, the Paris Agreement and all other international frameworks will not be achieved by any company alone and we, business leaders and our companies, need to work with others to maximize impact at scale," he stressed.
He was re-elected at WBCSD annual general meeting in Lisbon on 15 Oct 2019.
Nine new Executive Committee members were also named to WBCSD. They are:
Tatsuya Tanaka, Representative Director and President, Fujitsu;
João Castello Branco, Chairman, The Navigator Company;
Wiebe Drajer, Chairman of the Managing Board, Rabobank;
Nadir Godrej, Managing Director, Godrej Industries;
Keryn James, CEO, ERM;
Jan Jenisch, CEO, Lafarge Holcim;
Alan Jope, CEO, Unilever;
Ilham Kadri, CEO, Solvay Group;
Peter Oosterveer, CEO, Arcadis.
In addition, three serving members of the Executive Committee were re-elected for another two-year period:
Ana Botín, Executive Chairman, Banco Santander;
Takeshi Uchimayada, Chairman of the Board, Toyota;
Yaofeng Cao, Board Director, Sinopec Corp.
The Executive Committee is responsible for supervising the strategy and monitoring the effectiveness of operations, controls and governance of WBCSD.
In order to strengthen the diversity of backgrounds and experience represented in WBCSD's ExCo, the Organization's charter was updated to allow for up to 22 members to be appointed, up from 18 in the past. The appointment was enacted by a vote from members at the 2019 Annual General Meeting of WBCSD, in Lisbon. Their term will begin on 1 January 2020 for a duration of two years. fiinews.com