Technologies bring challenges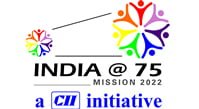 Media has more opportunities than ever before as digital revolution has brought media to every household. Giving this observation, Subodh Bharghava, Past President CII, said: In this era of convergence, new technologies are bound to bring new challenges."
He was speaking at the session on 'Future of Media' at the CII Annual Session 2019 with the theme of 'India 5.0: India@75 and Beyond'on 5 Apr 2019.
"Readers or viewers express their political views through their choice of media. There's a significant degree of pre-selection of media", observed T N Ninan, Chairman, Business Standard Pvt Ltd.
He drew a reference to a recent Survey by Reuters drawing connect between the inclination of certain media houses towards specific political ideologies and its impact on viewership, which in turn defined their political affinity.
"This makes responsible reporting an absolute imperative," stressed Ninan.
The speed and volume of 24×7 news today means content will remain king. "But it is a challenge to ensure quality and integrity of content. This transition will continue until people are willing to pay for content," said Raj Chengappa, Group Editorial Director, India Today Group.
He also laid emphasis on the unquestionable shelf life of quality content while talking about sustainability. "We need to identify a relevant revenue model to enable growth of newspapers and magazines," Chengappa pointed out.
Echoing similar sentiments, Pramit Pal Chaudhuri, Foreign Editor, Hindustan Times, noted: "readership is not a concern but profitability is."
He further added that print media serves as a feeder of information for online media, therefore, must be made a party to the digital revenue share.
"The revenue generated through online news is yet to be shared with the content producer because it completely goes to the platform. EU is taking steps to mend this and we need to follow carefully," Chaudhuri suggested.
While content reigned high, Tanya Beckett, BBC Journalist and Presenter, highlighted out how technology has enhanced access but at the same time has shed the filter of responsible reporting to a great extent.
"What adds to the echo chamber of particular agendas is that media channels do not make a concerted effort to maintain neutrality and balance," she pointed out.
Increased technological intervention is rapidly defining the pace at which news is being generated, broadcasted and consumed.
Taking the debate around technology further, Vikram Chandra, Editorji Founder, talked about how AI and technology, though seen as disruptive can be actually turned around into an enabler for media.
"AI can give personalized news experiences to users by providing matches with content producers. With high-speed internet, videos are a format that can be adopted beyond," he felt. fiinews.com