IICTF expects large scale participation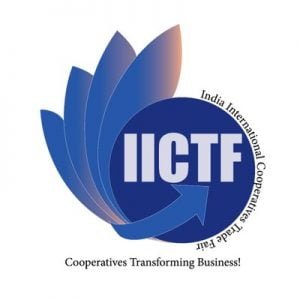 The first ever India International Cooperatives Trade Fair (IICTF), unique initiative for taking farmers, artisans and other members of cooperatives directly to the global trade arena, is to be held in New Delhi 11-13 October 2019.
It is aligning with the Agriculture Export Policy 2018 which aims at doubling the agriculture export and integrating Indian farmers and agriculture products with global value chains, said the Agriculture and Farmers Welfare Ministry on 1 July 2019.
Steered by NCDC, the Fair is being conducted with the support of one international organization (NEDAC), three Ministries, four State Governments and several apex level Indian cooperative organizations.
A large number of Indian Cooperatives and International Cooperative Organisations are expected to participate in this three-day event.
Though the international buyers can be from cooperative, corporate, private, government, IICTF covers exhibitors/sellers/buyers who have focus on the Cooperative-to-Cooperative trade on sectors such as agriculture and allied sectors complete value chains, cold chain, dairy, commodities, exports, technology, climate smart agriculture, processing, packaging, storage, machinery, brand promotion, marketing, coop-banking, agri-tech, cyber-security, livestock, fisheries, handloom, handicrafts, textiles, consumer goods, retail, hospitality, insurance, finance, credit, healthcare, products by women groups and capacity development.
The Trade Fair is aimed at promoting cooperative to cooperative trade within India and abroad leading to enhanced rural and farm prosperity. The fair will be packed with conferences, exhibitions, B2B meetings, C2C meetings, sales promotion, marketing and products display business, networking, policy advocacy etc., providing an immense opportunity to the participants to collaborate and explore business opportunities with the Cooperative Organisations from India and abroad.
The Trade Fair offers a huge opportunity for the industry and business houses from India and abroad to build alliances, business networking, product sourcing and above all, interacting with the primary producers of a wide range of products and service providers.
The Cooperative sector has a big role to play in doubling agriculture exports from present US$30 billion+ to US$60 billion+ by 2022 as envisaged in the Agriculture Export Policy. Towards this end a Cooperative Sector Exports Promotion Forum has been set up in NCDC very recently.
An estimated 94% of the Indian farmers are members of at least one cooperative institution. fiinews.com