India to call two more acreage leasing rounds this year
First oil/gas from Oct'18 blocks in 2023
First oil/gas from Oct'18 blocks in 2023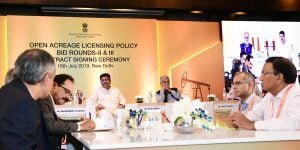 India is expected to lease out more acreage for exploration, reaching a total of 300,000 sq km by end of this year with two more bidding rounds, said the Petroleum and Natural Gas Ministry on 16 July 2019.
The 5th cycle of submitting Expression of Interest (EoIs) is due to close on 15 November 2019 with the 4th closed on 15 May 2019.
To date, the Ministry has leased out 210,000 sq km of acreage under three rounds of Open Acreage Licensing Permit (OALP) compared with 90,000 sq km leased till 2017.
On 16 July 2019, the Ministry signed contracts for 32 blocks awarded under OLAP Bid Rounds II and III.
The Government had launched OALP Bid Rounds-II and III on 7 January 2019 and 10 February 2019, respectively.
While Bid Round–II offered 14 Blocks (covering total area of approx. 30,000 sq. km.), the Bid Round-III offered 23 blocks including 5 CBM blocks (covering total area of approx. 32,000 sp.km.) under International Competitive Bidding (ICB) process.
The bidding for both these rounds closed on 15 May 2019. Subsequent to evaluation, a total of 32 blocks were approved for award to 6 companies, for which the Revenue Sharing Contracts on 16 July 2019.
The total area awarded today in the 32 blocks is 58,998 sq.km. (Onland- 31,551 sq.km; Offshore- 27,447 sq.km.).
Speaking on the occasion, Minister Dharmendra Pradhan the E&P sector is expected to come up in a big way.
"Today's award of OALP contracts is a step in this direction", Pradhan added, highlighting the country's network of refineries and a robust marketing setup.
The last five years have been a journey of continuous policy reforms and bold decisions, as the Country moved from production sharing to revenue sharing. Now it has reached Maximum Work commitment programme in the E&P sector – all these are intended to increase production.
He assured the successful bidders of OALP rounds that all issues can be solved through discussions and consultations, and they should not delay the projects at all.
The first OALP Bid Round was launched by the Government in January 2018 and had received overwhelming success with 110 bids for 55 blocks covering 59,282 sq. km. area.
All the 55 blocks were awarded in October 2018 and the Operators of these blocks have since initiated petroleum exploration activities or are in final stages of obtaining Petroleum Exploration Licenses (PELs).
The first oil/gas from these blocks is expected before year 2023.
The Hydrocarbon Exploration & Licensing Policy (HELP), which has adopted the Revenue Sharing contract model, is a giant step towards improving the 'Ease of Doing Business' in the Indian Exploration and Production (E&P) sector, said the Minister.
It comes with attractive and liberal terms like reduced royalty rates, no oil cess, marketing and pricing freedom, round the year bidding, freedom to investors for carving out blocks of their interest, a single license to cover both conventional and unconventional hydrocarbon resources, exploration permission during the entire contract period, and an easy, transparent and swift bidding and awarding process.
With the successful roll out of the HELP/OALP regime, based on the world-class National Data Repository (NDR), the Government has achieved a massive enhancement of exploration acreage in India. It is 210,000 sq km on 16 July 2019 after three rounds of OALP. fiinews.com