Govt. working on Ciethu Airport in Nagaland
East projects on fast-track
East projects on fast-track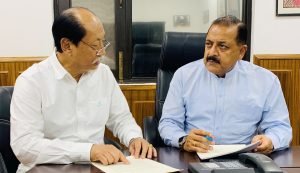 The Ministry of Development of North Eastern Region (DoNER) has sought Government approval for a Rs.1,000 crore proposal to fund a Rs.6,000 crore airport at "Ciethu" in the capital city of Kohima, Nagaland.
DoNER Minister Dr Jitendra Singh gave this assurance to the State Chief Minister Neiphiu Rio and his delegation during a meeting in Delhi on 21 August 2019.
Dr Singh reassured the Chief Minister that the airport proposal is being pursued seriously.
Neiphiu Rio had requested that part of the Rs.6,000 crore be funded by DoNER Ministry.
The Airport Authority of India has prepared a technical feasibility report after an appropriate site was identified for the all-weather airport.
Dr Singh also highlighted the government's commitment to develop the North East region, including the far-flung Nagaland, on priority,
All the region's development projects are on a fast-track and a follow-up is done on a regular basis to complete these projects within the stipulated timeline. fiinews.com