FM discussed stalled projects with real estate sector
Home buyers' want Rs.10,000cr rescue fund
Home buyers want Rs.10,000cr rescue fund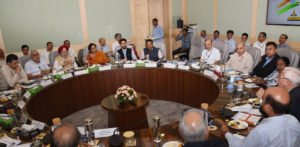 Finance Minister Nirmala Sitharaman has discussed stalled projects and liquidity issues with real estate executives on 12 Aug 2019 in New Delhi, taking in a suggestion of a stressed fund, at least of Rs.10,000 crore, for rescuing incomplete projects.
Ways to use stress funds for financing stalled projects was discussed during the meeting with the Minister, said Niranjan Hiranandani, the President of National Real Estate Development Council (NAREDCO).
The discussions included rationalisation of taxes and resolution of the liquidity crisis to boost the real estate and infrastructure sectors, and its positive impact on economy.
CREDAI President Jaxay Shah had suggested the inclusion of financial institutions in the Real Estate Regulatory Act (RERA) to help completion of stalled projects.
"On behalf of CREDAI, we hope to have succeeded in highlighting the urgency to ease the liquidity constraint in the interest of timely delivery to home buyers," said Shah.
CREDAI also argued in favour of RERA being given due recognition in resolution of legacy issues, he pointed out.
Measures to promote rental housing in the country was also discussed during the meeting.
Minister of State for Finance Anurag Thakur and the Minister for Housing and Urban Affairs Hardeep Singh Puri also attended the meeting.
Separately, home buyers' association, Forum For People's Collective Efforts (FPCE), called for Rs.10,000 crore stress or rescue fund to help stalled projects.
"The objective should be to complete all pending real estate projects pan-India within a span of five years by providing for such stress fund continuously for next five years," FPCE said in a letter to Sitharaman who met home buyers on 11 August 2019.
The forum has called for a task force and a public sector enterprise to lead in completing the stalled projects, starting with those nearing completion.
Among other, the forum sought 8% Goods and Services Tax on under construction projects with input tax credit as its revocation has increased the burden on consumers.
The forum also sought amendments to the Insolvency and Bankruptcy Code, pointing out that a home buyer is not a secured creditor, and as such he or she would not benefit in case of liquidation. fiinews.com