DBS India to accelerate growth plan with phygital expansion
Plans for 25 cities in next 12-18 months
Plans for 25 cities in next 12-18 months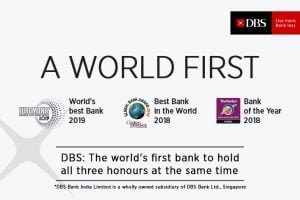 DBS Bank India Limited (DBIL) will accelerate its growth plans, expand its operations through a "phygital" model to further serve large corporates, small and medium enterprises (SMEs) and individual customers.
DBIL intends to establish over 100 customer touchpoints – a combination of branches and e-kiosks – across 25 cities in the next 12-18 months, said its CEO Surojit Shome.
In March, DBIL opened nine new branches and extended its reach to Hyderabad, Ahmedabad, Coimbatore, Vadodara, Indore and Ludhiana.
In addition, it expanded within cities where it is already present in, through new branches in Andheri in Mumbai, as well as Gurugram and Noida in the National Capital Region. It has also opened five branches in unbanked rural centres.
Reporting the bank's first financial performance, Shome said: "Over the previous financial year, we have strengthened our balance sheet and improved asset quality.
"We have focused our efforts towards growing our franchise in India through the establishment of the wholly owned subsidiary with the aim to build on the momentum to achieve greater scale in India."
DBIL has strengthened its balance sheet and improved asset quality with a net profit of Rs.14.5 crore for the 11 months of operations of the erstwhile India branches from 1 April 2018 to 28 February 2019.
DBIL has recovered from a loss of Rs.533 crore in FY2017-18
Gross and net non-performing assets (NPA) ratios were moderated to 3.13% and 0.33%, respectively (vs 5.04% and 1.09%, respectively, in the PY) with provision coverage ratio increasing to 92% v/s 82% in FY2018.
There has been a moderate increase in overall lending both in institutional banking and consumer banking segments in line with the bank's strategy, said DBIL.
Net advances increased by 1.35% to Rs.18,108 crore from Rs.17,867 crore in the corresponding period of the previous year.
The growth in total deposits was marked by increase in current account balances by 93.82% to Rs.4,631 crore, savings deposits by 16.97% to Rs.1,540 crore and term deposits by 8.39% to Rs.27,657 crore.
Growth in CASA YoY was 66.51%. The bank's CASA ratio improved to 18.24% compared from 12.68% last year.
The bank improved its net NPAs to 0.33% as on 31 March 2019 from 1.09% as on 31 March 2018 with provision coverage ratio at 92%. The reduction on gross and net NPAs was mainly due to focused strategy adopted by the management to address stress assets.
The capital adequacy ratio remained very strong at 19.69% on 31 March 2019, compared from 16.14% last year pursuant to capital infusion of about Rs.1,300 crore in Dec' 2018.
At the overall group level, DBS reported profit of S$5.63 billion during the year ended 31 December 2018. It recorded a profit of S$3.25 billion for H1 2019.
In July 2019, DBS Bank Ltd, Singapore become the first bank to concurrently hold three global best bank awards. This was achieved after DBS was named "World's Best Bank" by leading global financial publication Euromoney in its 2019 Awards for Excellence.
It follows the bank's wins of Global Finance's "Best Bank in the World" in August 2018 and The Banker's "Bank of the Year – Global" in November 2018.
This is the first time an Asian-headquartered bank has been named "World's Best Bank" by Euromoney since the award was launched in 1993.
DBS is a leading financial services group in Asia with a presence in 18 markets. Headquartered and listed in Singapore, DBS is in the three key Asian axes of growth: Greater China, Southeast Asia and South Asia. The bank's "AA-" and "Aa1" credit ratings are among the highest in the world. fiinews.com